What is USB?
USB is an acronym for Universal Serial Bus. USB allows for up to 127 devices to be connected to a computer at the same time. These devices include USB keyboards, USB mice, USB digital cameras, USB scanners, USB-to-Ethernet adapters, USB telephones, USB joysticks and many, many more.
What Operating Systems support USB?
Microsoft Windows 95B, 98/98SE, ME, 2000, XP and Vista. Apple Macintosh computers that have USB ports support most USB devices. Linux kernels 2.2.7 and later have USB code included to support USB connections. If a device requires additional software support, it will usually be supplied with the device, and this software may have additional limitations, including a limitation on operating systems that can be used.
What does a USB connector look like?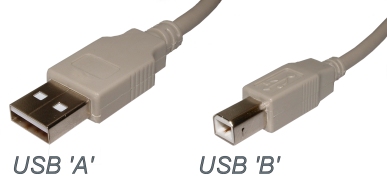 Why are the connectors different?
USB is a host-client system i.e. one end (e.g. your PC) is the controlling device, the other end (e.g. a printer) is the controlled device. USB cables always have the A-connector facing toward the host or controlling device, and the B-connector facing toward the client or controlled device.
USB hubs will typically have a single upstream connection to a USB host using a USB-B connector, and offer a number of downstream connections to USB clients using USB-A connectors.
How fast is USB?
USB operates at three speeds - 1.5 Mb/sec, 12 Mb/sec, and 480 Mb/s. The USB 2.0 specification defines the parameters for devices operating at all three speeds, but the term is commonly used to refer to devices and cables that are capable of supporting the higher (480 Mb/s) speed.
What is the maximum current that can be drawn from a USB port?
500mA
What is the maximum length of a USB cable?
5M, but slow USB devices such as keyboards and mice may have difficulty working at distances over 3M. These length limits are due to data propogation delays along the cable.
Is this why CableCity.co.uk offers 1.8M, 3M, and 5M USB cables, but only 1.8M and 3M (..but NOT 5M) extensions?
Yes!
What is the difference between USB 1.1 cables, and USB 2.0 cables?
Because of the high data rates carried by the cable, a USB cable does not behave as a simple copper connection between a host and client device. Instead, reliance is placed on the transmission line characteristics of the cable, and it is these characteristics which both enable the use of high data rates and place a limit on the maximum length of cable which may be used.
USB 1.1 cables are only expected to carry data at lower rates, and therefore do not need to be so carefully manufactured. Such cables are therefore cheaper, but are now considered obsolete.
What is the difference between USB 2.0 compliant cables, and USB 2.0 compatible cables?
USB 2.0 compliant cables have been type-tested and are certified to meet or exceed all USB 2.0 specifications. All of the USB 2.0 cables and extensions found on this website are USB 2.0 compliant.
USB 2.0 compatible cables have been found to work with USB 2.0, though in one or more parameters may not meet USB 2.0 specifications. CableCity.co.uk can supply USB 2.0 compatible cables to the trade only (in volume) at a discounted price, but advises anyone considering the purchase of these to review their intended application carefully.
How can I place a USB device more than 20 or 30 meters away from my PC?
Not by using a simple cable, as the length limits are quite strict. CableCity.co.uk supply a device called a USB Extender, which extends the range up to 45 M. Unfortunately, this only support data transfer at the 1.5Mb/s and 12Mb/s rates, so you will not be able to have as fast a transfer as a USB 2.0 480Mb/s connection. This device is particuarly useful for installing remote, USB-based webcams.
Can I link 2 PCs together using a USB cable?
Not by using a simple USB-A to USB-A cable. As USB is a Host-Client system, it requires electronics to fool both ends of the cable into thinking that they are the host. An example of a solution which will work can be found here.
What are the difference between USB2 and Firewire?
Though the speeds of USB 2.0 and IEEE 1394a (Firewire 'A') are similar, different technologies are used. USB is (broadly speaking) cheaper to manufacture, whilst Firewire uses less of the host PCs processor time. As a result, the two technologies are unlikely to compete, with Firewire generally being used in Digital Video applications.
Can you connect a Firewire device to a USB port on a PC?
Yes, but this is new technology which is emerging, and its lack of maturity has resulted in reliability issues being reported. Solutions require electronic protocol conversion (i.e. the solution is not a simple cable) remain expensive. Subject to the technology maturing sufficiently, CableCity.co.uk expect to distribute such devices in the 4th quarter of 2005. Update 2 Jan 2006 - most designs for these converters have performance and/or reliability issues and are still not available at a mass-produced price. Update Oct 2007 - there are still no mass-market manufacturers of these devices, so CableCity.co.uk still has no release date for distributing this product.
---
The above information is presented as a discussion of the technology involved. No part of this document should be taken as describing or extending the specifications of individual products offered by CableCity.co.uk. For the latest published product information, please see the corresponding CableCity.co.uk product page. In case of query, please use the 'Contact' facility to ask for clarification. No part of this publication is to be reproduced or stored for commercial use. Linking to this web page is invited, and if such links are in a news or educational context then no further permission is required. All rights (including prohibition of commercial use) are reserved.